Our mission is to Encourage & Equip Christians to Live Free, Joy-filled Lives. We've designed the Christian Living Study Booklets as a catalyst for one-on-one discipleship, a curriculum for church small groups, and a course for discipleship schools. We've developed and teach the Christian Living Course at Alaska Bible Institute (ABI). ABI exists to Train and Equip Christians for Life & Ministry. We receive funds via World Outreach Ministries. World Outreach Ministries operates as an IRS-registered 501(c)(3) not-for-profit. All donations are tax-deductible.
Thank you!
ONLINE
---
You will be directed to the World Outreach website.
*See below for current project financial needs and a description of how to give online.
CHECK
---
Please make checks payable to:

WOM
Memo:

Steel #204
Mail to:

World Outreach Ministries

P.O. Box B

Marietta, GA

30061
PHONE
---
Call toll-free:

1-800-832-WORD

(1-800-832-9673)
CURRENT PROJECTS
---
When giving a "One-Time Gift" online, you can indicate the project you would like to give toward by typing it in the "Project Name" box when filling in your billing information. Below are the following projects that we currently need finances for. We will update the amount as funds come in.
"BETHEL, AK"
---
April 17-22 – I will be teaching at a Pastor's Conference in Bethel, Alaska on the subjects of identity and forgiveness.
Trip Cost: $1000 // Received: $0 // Needed: $1000
"PERU"
---
May 26-June 3 – Lacey and I are teaching at a Marriage Conference in Iquitos, Peru.
Trip Cost: $5000 // Received: $1800 // Needed: $3200
MONTHLY SUPPORT
---
We haven't met our family and ministry budget for the month. Please consider donating toward our monthly budget by selecting "Automatic Monthly Gift".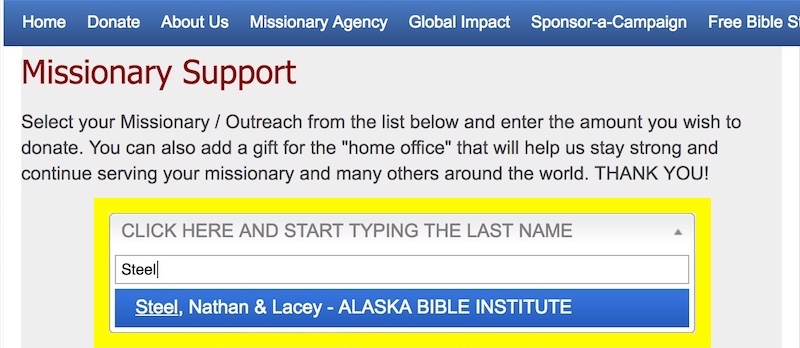 ---
1) Type in our name: "Steel"

---
1) Click the "Donate" Button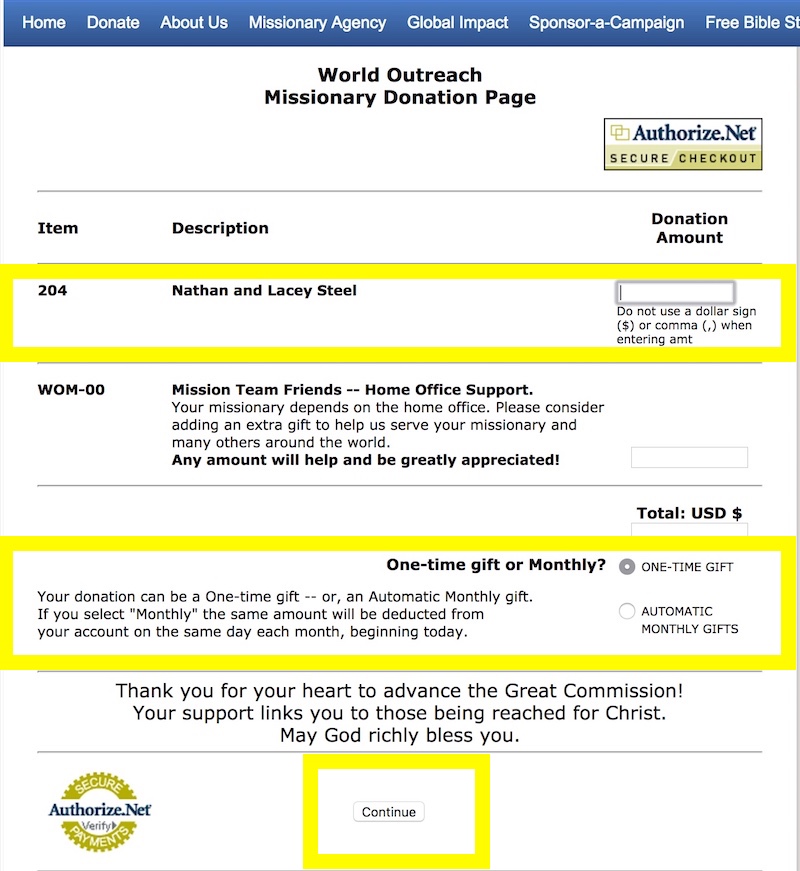 ---
1) Fill in the amount you would like to donate.
2) Then select either: "One-Time Gift" or "Automatic Monthly Gifts"
3) Finally, click the "Continue" button.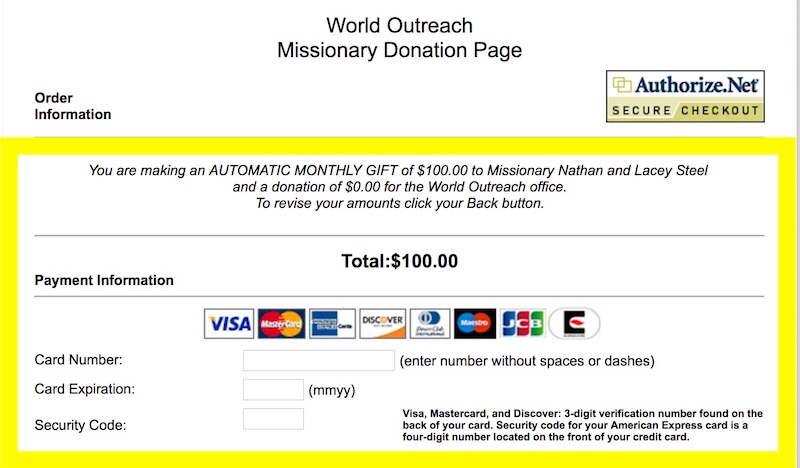 ---
1) Confirm that you are giving either a "One-Time Gift" or an "Automatic Monthly Gift"
2) Confirm the amount that you are giving
3) Fill in your credit card information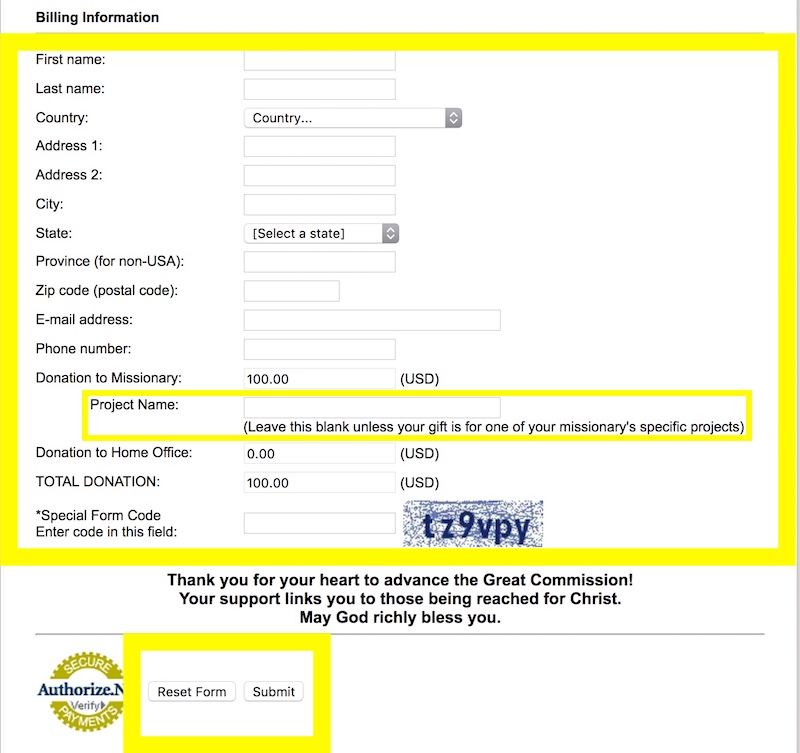 ---
1) Fill in your Billing Information.
2) If you're giving toward a project, type in the Project Name
3) Confirm your donation total
4) Click the "Submit" button
WORLD OUTREACH MINISTRIES
---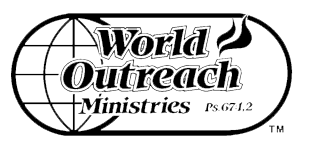 World Outreach Ministries is an affiliation of interdenominational missionaries and humanitarian workers who need a dependable home office. It was established over 30 years ago by Jason Peebles in 1979. The missionaries they serve are from all types of church backgrounds and are involved in a variety of outreaches – evangelism, church planting, schools, medical clinics, aviation, translation work, children's shelters, leadership training, support roles, and so much more. God's kingdom needs all kinds of workers. Their heart is to serve missionaries who are on the "front-lines" and provide them with a dependable home office. They are serving over 200 missionary families who call World Outreach Ministries "their home office".